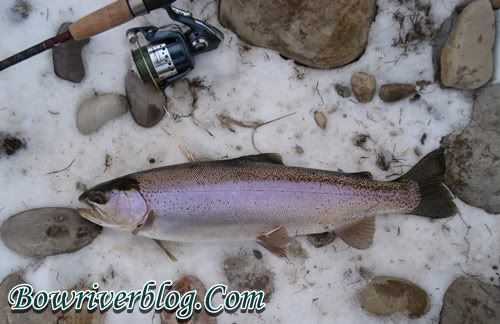 Just What The Doctor Prescribed
After working diligently to get all my work done this week, I packed my fishing tackle and my rod into the back of my car and headed off to finish the work week. Friday morning was looking really great to leave work early and sneak away to fish the Bow River. Just as a doctor would prescribe ointment for a rash, fishing scratches and heals all my itches. I left work early at ten thirty and drove thirty minutes to meet up with some trout.
I parked the car and got out. Burr, it was a little chilly so I got on my snow pants. I added an extra sweater for good measure as well, after all I am not leaving the river until I catch at least one fish. I tied up a Rapala Countdown and made sure the knot was going to hold if I caught a monster Trout. The knot broke the first time I tied it up, so I made extra sure the knot was solid the second time I tied it up. I am a little rusty but the clinch knot was perfect this time. I then put my back pack over my shoulders and make the short walk to the river bank. I fished my way upriver with no bites for the first five or ten minutes. I was looking for a deeper section of river as the countdown can run fairly deep. If you use a lure that runs deeper than the river, all you will catch is rocks, branches, and weeds.
I gingerly walked out onto the ice that has gathered on the bank and made my cast. I was able to almost cast all the way across the river, the ice was quite far out into the river in some spots. The lure was running true and clean when, tap, tap I feel the bite of a trout. I seen the fish swim back into the rock he was hiding behind. Even though I thought there were fish stacked in this area, I kept moving upriver to see what else was alive down there. Just a short distance upriver I finally hooked into a twenty inch Brown Trouton a Brown Trout Rapala. This guy was hungry and engulfed my offering. Then there came another slow period. I decided that instead of leaving the original hook on, I would change it to another Rapala of a different color. I feel some fishermen make the mistake of leaving their hook on too long when they are not catching fish. Today all it took was to change the color pattern and then I started slamming trout. I was using the same hook, it was the same size but I just changed the color.
After I switched hooks I made a long cast into a seam in the middle of the river. I could see there were some large rocks and I wanted to see what was hiding behind them. My cast was made just a metre in front of the spot I wanted to work my lure through. I was careful not to spook the fish from the splash of my lure. I clicked the bail over and reeled the lure making it swim erratically and fast, then BOOM a trout was hooked on and fighting hard. I reeled him in and to my surprise it was a chunky rainbow. I love rainbows! The very next cast was put almost to the exact same place the first cast went into, this time the lure dove down and I let it sit still, BANG another trout was hooked up. Back to back trout's. This time it was a big brown that was rolling to get the hook out of his mouth. I managed to slowly reel him in to land him and what a beautiful looking fish. I released him back into the frigid water and wiped my hands off. It was getting windy by now and it was time to walk back downriver towards my vehicle. I was fishing all the way back downstream as the wind was howling behind my back.
As the wind was blowing strong my lure was going even farther out into the River than when I first started my day. I hooked the bottom; probably a tree or a large rock in the river and my hook broke off. "Oh well" I said and reached into the back pack for another. A different colour Rapala was selected. It's a new color out this year. As I came to a deep small pocket of water, I flicked the lure into the drop point of the hole and slowly reeled the Rapala towards the deepest part of the hole. After the third try, what I left early from work for was pulling my lure hard. A twenty five inch Brown trout was getting the best of me. I loosened the drag on my reel as I could see this was no small fry. He then peeled out several yards of line before coming to a stop; quickly I picked up the lost line and brought him close to shore where I tailed him out and removed the Rapala from his tooth jaws. "Now that's what I'm talking about" I said out loud. I saved the best for last today that's for sure. Hopefully next week the weather is nice and I can get away again. What are you doing this week? Perhaps some trout fishing!