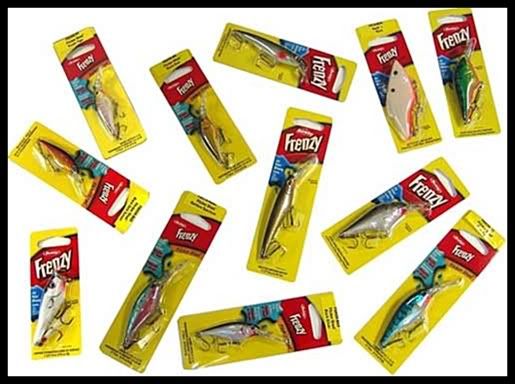 Crank Bait's Are King
We all have seen those big fat juicy looking lures dangling from the tackle store shelves just begging us to buy them. Heck they look so life like these days I even think about eating one or two of them so why not a fish. I turn on the fishing channel on Saturday mornings and see these same lures being used time and time again, "today we will be using crank baits to catch our fish" says the host of the TV show. So why choose the crank bait to catch your prey. Well its simple really, these lures like the Rapala are tank tested to achieve the perfect wiggle, wobble, pitch and roll which makes the lure look like a reel bait fish.
The color schemes on the Rapala are matched to duplicate whatever baitfish is in your local area. I fish my local river for rainbows and brown trout so I choose the corresponding colors to catch my quarry, rainbow trout colors and the brown trout color. I see the pro's using them while they fish and have great success with them; some even sign their name on the favourite lure like the Berkley Frenzy Jay Yelas hard baits. Relying on Berkley Frenzy crank baits, professional bass angler Jay Yelas led wire to wire at the 2002 CITGO Bass masters Classic to capture his first world championship.
Yelas, who finished with 45 pounds and 13 ounces, entered the final day of the three-day competition with a comfortable lead of over nine pounds, out fishing the field that included fifty-two of the world's best bass anglers. It was only the third time in the 32-year history of the Classic that the winner led from start to finish. So this is why I choose to fish the crank bait often, they are proven to work for the pro's and for me also.
Crank baits can be used in all depths of water as they make them to dive from two feet all the way down to thirty or more feet deep. Depth is important in choosing the right crank bait for your fishing situation. When exposed to different food sources, trout spend more of their time at different depths, making the most of the variety of food that is available to them. When fishing at depth, use large crank baits for better visibility, and when fishing shallow where light penetrates easily, go smaller. Fish tend to find their food on the surface, on the lake or river bed or in the margins. The middle depths tend to be an unproductive "dead zone" as there is little food and no cover there. It is wise to begin fishing deep, on or near the bottom or on the surface when fishing open water. If you don't find quick success, work your way up or down with your crank bait until you find success and hook up.
Crank baits can be used from a boat or while standing on a shoreline. They can be used in rivers and lakes alike, so they are very versatile and work well in most all fishing situations. My favourite crank baits include the Rapala, Berkley Frenzy, Storm, and many more. Crank baits deserve a place in your tackle box and on the end of your line.